Attendance
Tardy
If you are tardy, please report to the Counseling Office upon your arrival.
Absence
If you are late or absent due to illness or a medical appointment: When you return to school, please bring a note from your parent/guardian or doctor to the Counseling Office so your tardiness/absence can be excused. Place it in the box on Ms. Ruffin's desk. The note must include the following:
Your name, grade, and homeroom
Dates and reason you were absent
Parent/guardian signature and phone number
Parents/Guardians: You may call Ms. Ruffin if your child is absent: (415) 759-2773.
However, only written documentation will excuse absences/tardiness.
Lost & Found
On the 1st floor in the Red Tile Area
Please come check for missing items!
Items that are not collected will be donated. 
Other items (i.e. keys, glasses) are located in the Main Office.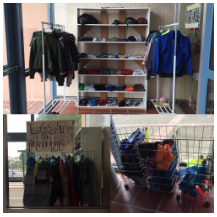 This page was last updated on November 15, 2019