The Arts Dept Teachers' Emails
Message to Incoming 6th graders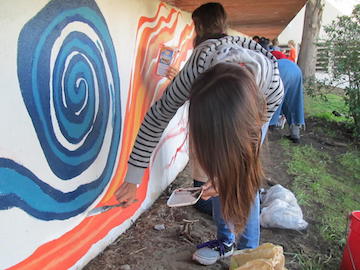 We are so excited to work with you over the next three years. A.P. Giannini Middle School has a history of excellence in the Arts Department. All Art classes are sequential, standards-based courses taught by exemplary teachers. 
We now have a quarterly rotation for 6th-grade arts: media, drama, visual arts, and dance or choir as well as year-long offerings of band, orchestra, choir, or dance. Please note that 6th grade is the last time students can enroll in the band or orchestra programs.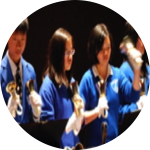 In 7th and 8th grade, the students continue in either band or orchestra, or choose a class from a wide variety of courses including art, choir, creative writing drama, drama tech, film, or guitar.
No matter which arts class a student chooses to pursue, parents can be assured it is a high quality program.The band, choir, and orchestra perform throughout the Bay Area participating in many festivals, competitions, and concerts. The drama program puts on two full productions each year. Take a stroll around the school to witness the plethora of art  created by our young artists. 
6th Grade VAPA Choices
What is band?
We like to tell the students that band is the instruments you blow into. although this is not completely true, it is an easy way to compare band and orchestra. 
Band is an instrumental ensemble made up of the following instruments: Flute, Clarinet, Oboe, Bassoon, Saxophone, Trumpet, French Horn, Trombone, Baritone, Tuba, and Percussion.
What is orchestra?
We like to tell the students that "orchestra has instruments with strings." Orchestra is an instrumental ensemble made up of the following instruments: Violin, Viola, Bass, and Cello.
What is the Unified Arts Rotation?
We now have a quarterly rotation for 6th-grade arts: media, drama, visual arts, and dance or choir as well as year-long offerings of band, orchestra, choir, or dance.
Please Note
The 6th grade is the last time students are able to enroll in an instrumental ensemble.  
Don't just take our word for it.
Hear firsthand how the arts impact lives ...
A 2007 Harris Interactive Poll of working adults indicated that music education impacted five skill areas: ability to work toward common goals, striving for excellence in group settings, disciplined approach to solving problems, creative problem solving, and flexibility in work situations. (Harris Interactive Poll, 2007)
"The foremost technical designers and engineers in Silicon Valley are almost all practicing musicians." (Dickinson, D., Music and the Mind, 1993)
"We live in an age when the most caluable asset any economy can have is the ability to be creative - to spark and imagine new ideas, be they broadway tunes, great books, iPads or new cancer drugs." (Thomas Friedman, New York Times, August 4, 2010)
"Students indicate that arts participation motivates them to stay in school, and that the arts create a supportive environment that promotes constructive acceptance of criticism and one in which it is safe to take risks. (Barry, N., Taylor, K., and Walls, K., Critical Links: Learning in the Arts and Student Academic and Social Development, AEP, 2002)  
Differences between Elementary and Middle School in the Arts Department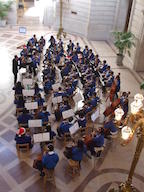 The Arts Department in middle school differs from elementary school in a number of ways. In elementary school, the musicians do not always meet daily nor receive a grade specifically for the class.
In middle school, the arts classes are just that: classes. This means the students meet everyday, receive a grade, and will probably need to work outside of class-time to master the concepts and skills presented in class. 
Also, no experience is necessary! We have plenty of supplies and instruments to give your child the tools to succeed in any class. If your child wants to play an instrument but never has before, we will not only teach your child but also provide an instrument they may use. 
10 Lessons the Arts Teach
By Elliot Eisner, Arts Education Researcher and Scholar
 The arts teach children to make GOOD JUDGMENTS about qualitative relationships. Unlike much of the curriculum in which correct answers and rules prevail, in the arts, it is judgment rather than rules that prevail.
The arts teach children that problems can have MORE than ONE solution and that questions can have more than one answer.
The arts celebrate multiple PERSPECTIVES. One of their large lessons is that there are many ways to SEE and INTERPRET the world.
The arts teach children that in complex forms of problem solving purposes are seldom fixed, but change with circumstance and opportunity. Learning in the arts requires the ABILITY and a WILLINGNESS to surrender to the unanticipated possibilities of the work as it unfolds.
The arts make VIVID the fact that neither words in their literal form nor numbers exhaust what we can KNOW. The limits of our language do not define the limits of our COGNITION.
The arts teach students that SMALL DIFFERENCES can have LARGE EFFECTS. The arts traffic in subtleties.
The arts teach students to think through and within a material. All art forms employ some means through which IMAGES become REAL.
The arts help CHILDREN LEARN to say what cannot be said. When children are invited to disclose what a work of art helps them FEEL, they must reach into their POETIC CAPACITIES to find the words that will do the job.
The ARTS ENABLE us to have EXPERIENCE we can have from no other source and through such experience to DISCOVER the range and variety of what we are capable of FEELING.
The arts' position in the school curriculum symbolizes to the young what adults BELIEVE is IMPORTANT.
(SOURCE: Eisner, E. (2002). The Arts and the Creation of Mind, In Chapter 4, What the Arts Teach and How It Shows. (pp. 70-92). Yale University Press. )
This page was last updated on August 2, 2023