COFFEE WITH ADMIN SLIDE DECK-  
Transgender History Month
San Francisco celebrates August as Transgender History Month! Did you know that SFUSD was the first school district in the U.S. to pass a policy extending safeguards to our transgender students? Our policy serves as a model for school districts throughout the state and the country. For more information about LGBTQ Support Services, visit sfusd.edu/lgbtq. Check out our Gender Inclusive Guidance for Educators.
8TH GRADE STUDENTS AND GUARDIANS
Exploring High Schools has begun.  To find out information about the variety of high schools, the application process, and other support information, go to the 8th GRADE COUNSELING page.
NEW SFUSD Libraries Website
Check out stories, projects, challenges and films on the NEW SFUSD Librarians website.
https://www.sfusd.edu/services/health-wellness/covid-19-resources-families-students 
Check this page to get the most current information from SFUSD and Denman. Updated often.
TECH HELP TICKET
bit.ly/vilshelprequest. This form is for EVERYONE, students, parents and staff. It is not only for tech support, but any type of help needed from DoT (e.g. Prof Learning, request for office hours, etc.).
School Year 2021-2022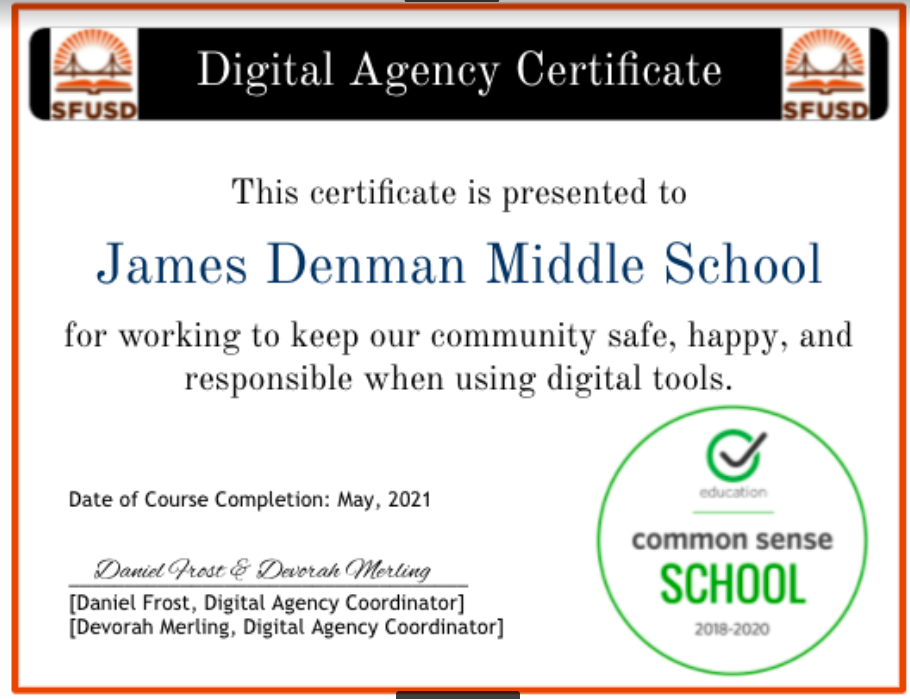 More about this school
School Type

Middle School (6-8)

Estimated Enrollment

870

Principal

Assistant Principal

Wu Liang Chung
Jennifer Ujiie

Hours

School Tour

Uniforms Policy

SFUSD dress code

This School Is Fed By

Neighborhood

Outer Mission

School Meals

Breakfast, Lunch, After School Supper

School Code

632
Overview

About James Denman Middle School

Our vision for James Denman Middle School is that all members of our learning community will be literate, motivated, respectful, and independent thinkers. We commit to creating a safe, non-competitive environment in classrooms—getting to know individual students—their families, skills, and talents. Our experienced teachers demonstrate, encourage, and expect respect in the classroom. They challenge each student to work hard and learn from others.

We believe that a joyful learner is one who is challenged just enough to feel like he/she has accomplished something real. The concept of a joyful learner needs to be applied not only to the students, but to the staff and the parent community as well. We aim for adventure in learning. James Denman is building partnerships with community members in bringing in choir and music production programs like digital music making and connecting it to mathematics. We are also focusing on character development through giving our students leadership opportunities. Student government is active with more than 20 participants. They work on improving student climate, bringing equity into their school, and improving the school's environment. Our school community is active in our own service projects—such as improving our school environment; creating bulletin board themes and murals; gardens, and recycling/composting. Our school community welcomes and supports active parent participation through a variety of involvement opportunities.

Our mission is to provide each student with an equal opportunity to succeed by promoting intellectual growth, creativity, self-discipline, cultural, and linguistic sensitivity, democratic responsibility, economic competence, and physical and mental health so that each student can achieve his or her maximum potential

Our Vision at James Denman Middle School is to ensure that every student will be prepared for high school, will understand the A-G requirements for universities, and will be prepared to engage in the academic technological world. Our students will have the confidence, competence and information needed to make positive choices for their future and will have demonstrated strength and competence in all areas needed for full participation in the 21st century economic, political, cultural, and intellectual life of our nation and global society. In addition to academic competency, these areas include multilingual and cross-cultural competency; technological literacy; communication skills; aesthetic sensibility; critical and creative thinking, reasoning, and solution-seeking; social, environmental and civic responsibility; and strength of character.

Our Guiding Principles:

I take actions and make decisions that move us closer to our vision of student success.
I nurture positive relationships and connections in service of student success.
I inspire and support innovation to end racism, classism, and language bias.
I contribute to creating a system that supports our principles, goals and objectives.
Programs

After School Programs

ExCEL program: no cost, Mon-Fri from 3:30 to 6:00 p.m. Call 415-292-3027 for more information. 

Special Education Programs

Resource Specialist Program Services

Separate class - Mild/moderate

Separate class - Mild/moderate with autism focus

Separate class - Moderate/severe

SOAR (Success, Opportunity, Achievement, Resiliency formerly known as ED or Emotionally Disturbed)

School Day Academic Enrichment

Academic counseling

College tours and visits

Computer carts

Leadership class

STEAM (science; technology; engineering; arts; mathematics)

Technology or computer lab

Technology teacher

Arts Enrichment

Band

Coding

Media arts

Orchestra

Visual arts

We offer a variety of electives including media arts, visual arts, band and orchestra.

Athletics

Baseball

Flag football

Soccer

Softball

Track and Field

Volleyball

Student Support Programs

AVID (Advancement Via Individual Determination)

College planning

Counselor

Family liaison

Health and wellness center

Mentoring

On-site nurse

Social worker

Student adviser
School Data

Application Data

General education entry grade seats per application:

55%
Contact Info

Address

241 Oneida Avenue, San Francisco, CA, 94112

Phone Number

415-469-4535

Fax Number

415-585-8402

Email

sch632@sfusd.edu
Location
James Denman Middle School
Grades 6-8
241 Oneida Avenue, San Francisco, CA 94112
Get directions
MTThF 9:00 a.m. - 3:30 p.m., W 9:30 a.m. - 3:30 p.m.