10 free books for each SFUSD student, grouped by grade levels 

June 14-September 12
Announcement 6/7/21: Denman Promotion Pick Up Day Photos have been emailed to all Denman 8th grade students and families. Please have your student log in to their SFUSD account to access the folder.
Anuncio 7/6/21: Las fotos del Día de Promoción de Denman se han enviado por correo electrónico a todos los estudiantes y familias de 8º grado de Denman. Por favor haga que su estudiante inicie sesión en su cuenta SFUSD para acceder a la carpeta.
21 年 7 月 6 日公告:登曼宣傳日照片已通過電子郵件發送給所有登曼 8 年級學生和家庭。 請讓您的學生登錄他們的 SFUSD 帳戶以訪問該文件夾。
NEW SFUSD Libraries Website
Check out stories, projects, challenges and films on the NEW SFUSD Librarians website.
https://www.sfusd.edu/services/health-wellness/covid-19-resources-families-students 
Check this page to get the most current information from SFUSD and Denman. Updated often.
TECH HELP TICKET
bit.ly/vilshelprequest. This form is for EVERYONE, students, parents and staff. It is not only for tech support, but any type of help needed from DoT (e.g. Prof Learning, request for office hours, etc.).
School Year 2021-2022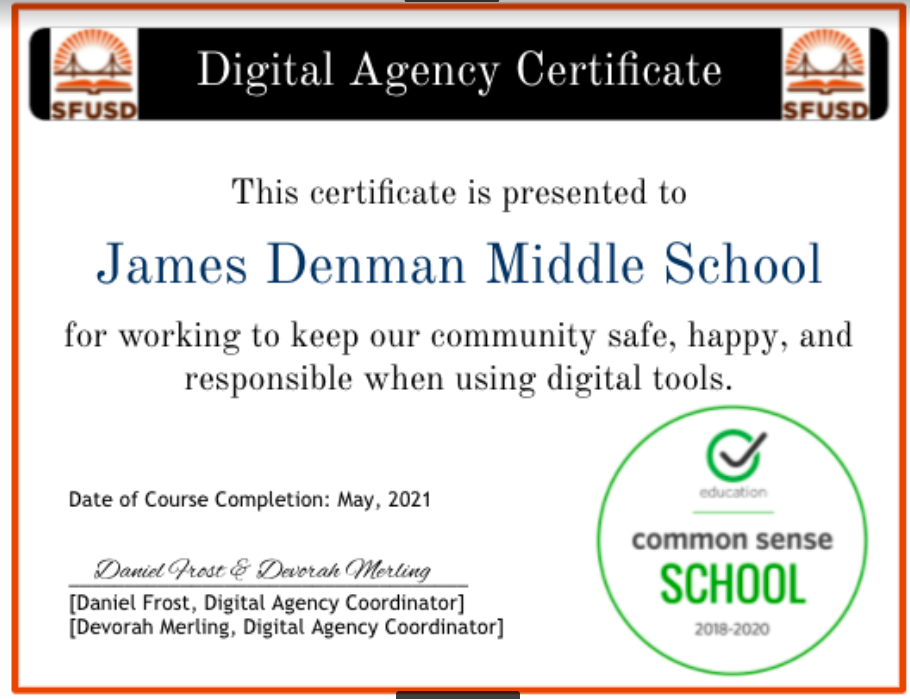 This fun graphic novel is about a bee named Nyuki. Nyuki is a brand-new honeybee - and she has a lot of questions.  Follow Nyuki on a lifelong journey as she annoys her sisters, avoids predators, and learns to trust her inner voice as she masters the way of the hive. The author, Jay Hosler, will be interviewed on Sunday 7/18 at 10am PST via livestream by following this link: https://youtu.be/bEJ1YHJUevo. (and ask questions, too, Mr. Hosler is actually a college professor)
More about this school
School Type

Middle School, 6-8

Estimated Enrollment

870

Principal

Assistant Principal

Tessa Lajoie
Jennifer Ujiie

Hours

Monday, Thursday - periods 1, 3, 6

Tuesday, Friday - periods 2, 4, 7

Wednesday- Asynchronous

Lunch - 12:30-1:15 (M, Tu, Th, Fri)

Advisory - Tues, Thurs

Students MUST report attendance to Advisory teachers on Wednesdays

James Denman Middle School

Parent Teacher Conference Week

Fall 2019

November 16th – November 20th

Scheduled by Advisory Teacher

School Tour

Uniforms Policy

SFUSD dress code

This School Is Fed By

Neighborhood

Outer Mission

School Meals

Breakfast, Lunch, After School Supper

School Code

632
James Denman Middle School
Grades 6-8
MTThF 9:00 a.m. - 3:30 p.m., W 9:30 a.m. - 3:30 p.m.