Apply for a Certificated role with SFUSD!
Step 1: Before You Apply
We recommend gathering the following materials to help prepare you for the application:
Credential/License information

Resume

Contact information for at least two references
Step 2: Apply Online
Create your application at

https://careers.sfusd.edu/

and begin a new certificated application (if you haven't already started one).

You will be prompted to electronically attach your resume and other supplemental information to your application.

If you have not yet received your credential, please indicate (in the credential section of the application) that your credential is "pending" and enter the expected date of completion.
Step 3: After You Apply
Once submitted, your application will be screened and your qualifications reviewed. Upon passing the screening process, you will be eligible for hire with SFUSD, and principals/administrators will be able to view your application. Please view our current openings and apply directly to positions of interest.
Log in to your application regularly to view and express interest in open positions.

Administrators will select applicants to interview based on particular position requirements and the candidate's fit for that position.

Candidates can expect to be contacted directly by administrators—or by Human Resources, if you are deemed a fit for an existing opportunity.

Update your application regularly.
Hiring Timeline
We encourage you  to complete an application for employment at your earliest convenience. Though SFUSD accepts applications year-round, our hiring cycle generally begins in early Spring. We begin with our Early Hiring Window between the months of February and early April. Early hiring in the San Francisco Unified School District allows select school sites to embark on the candidate selection process early and allows candidates to consider openings in the district as soon as February of each year! The period in time is reserved for our High-Potential Schools and our school sites hiring for specific high-need subject areas: Special Education and Bilingual Education. The Early Hiring Window is followed by our Internal Preference Period, the period in time where many of our openings are made available only to internal applicants. Near the end of April, after the conclusion of our Internal Preference Period, we transition into External Hiring, where all sites have the ability to extend offers to candidates and external applicants are welcome to be considered for district opportunities. Please check our job board regularly to be kept up to date about new vacancies. 
SFUSD accepts applications throughout the spring, summer, and fall. However, we recommend submitting your application as soon as possible in order to be eligible for the earliest hiring opportunities of the school year. For more information about other employment opportunities in SFUSD, visit our new careers website at https://careers.sfusd.edu/.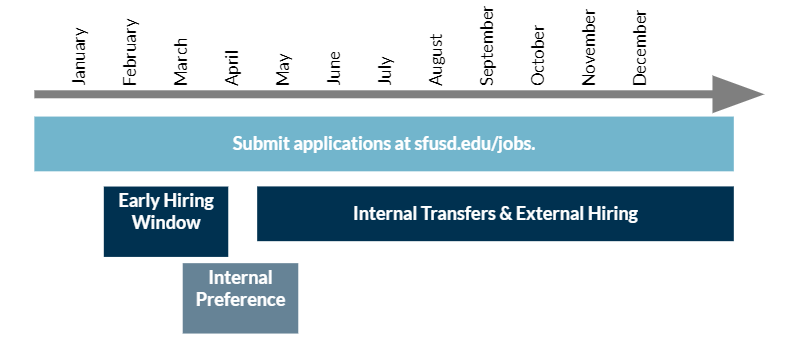 Hiring Tips
For more information on navigating the Certificated Hiring process, including interview tips, connecting with administrators and resume resources, please visit our Certificated Hiring Support Guide.
This page was last updated on March 5, 2021