Information Regarding Report Cards
Families can view timelines for Report Cards:
Preparing for Parent Teacher Conferences (November 16-20) and Standards Based Report Cards (SBRCs)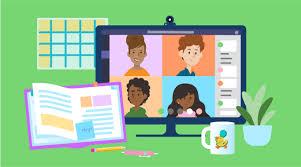 During the first 12 weeks of school, as students have learned virtually, the partnership with you has been essential to your child's success. Teachers across our system are using a wide variety of digital and non-digital methods to connect with and teach grade level standards in a variety of ways. Distance learning has presented new challenges for educators, as well as new and innovative ways to build relationships with students, and engage students in meaningful learning experiences.
Throughout the first 12 weeks of school, 
Educators have prioritized getting to know students and facilitating connections with and between classmates. 

Educators have had to change the pacing of units and lessons addressing the common core, grade level standards due to many factors including; 

the methods being used for instruction and its impact on learning tasks, 

the focus on community building through learning experiences and 

the individual learning needs of students. 

Educators focused their instruction on priority standards that are critical for students to learn given these challenges. 
As a result, you will notice that progress on fewer standards will be reported for these first 12 weeks on your child's report card. We ask that you attend your Parent-Teacher Conference with this in mind and listen to how your child's teacher will continue to ensure your child is developing socially and academically during this unprecedented time. Your child's report card will also be available to you by November 16th or by the time you and the teacher meet. This is also an important opportunity to share what you are noticing about your child as a learner.
Why do we need assessments?
Assessments are an important part of SFUSD's plan for high-quality teaching and learning, which seeks to help all students graduate prepared for college-level coursework and a 21st-century career. Like class assignments and report cards, assessments provide information to schools, teachers and parents as one gauge of student progress toward mastery of grade and/or course learning goals.
District Assessments
SFUSD elementary, middle and high school students participate in common district assessments in reading and mathematics. Common district assessments are one of many tools used to monitor and support student progress toward mastery of grade-level content and skills. Families of students in grades K-8 will receive student reports with scores from these assessments at Parent Teacher Conferences. Families will be provided translated reports containing their child's district assessment results in advance of each Parent Teacher Conference Week. This year, Parent Teacher Conference Week begins on November 16, 2020 and on March 8, 2021.
More resources regarding SFUSD District Assessments for Families during distance learning are available now.
Reading
All students in grades 3-10 participate in a computer-based reading assessment called Reading Inventory. Assessment results provide information for monitoring a child's progress and growth in reading across the school year and across grade levels. 
Grade 3-8 students will take the Reading Inventory October 8 - November 5 and February 1- March 5.
High School students will take the Reading Inventory September 14 - October 9 and January 5 - January 29.
More information regarding Reading Inventory administration at home is coming soon.
Math
As part of the Math Core Curriculum, all students in Kindergarten through Algebra II/Pre-Calculus participate in the Math Milestone Tasks during the 2020-21 school year.  These are constructed response tasks in which students solve a series of math problems, showing their work and explaining their answer. 
State Assessments
State assessments are annual measures that provide a broad view of a student's proficiency relative to grade- or course-level standards.  These culminating assessments can provide a general sense of how students and schools are doing for families, school and district leaders, and state policy makers.  
The state assessments for the 2018-19 California Assessment of Student Performance and Progress (CAASPP) are shown in the carousel below:
English Language Arts and Mathematics
Smarter Balanced Assessment / California Alternative Assessment
Grades 3-8; 11
Science
California Science Test (CAST) / CAA
Grades 5, 8, and 11
English Language Development
English Language Proficiency Assessments for CA (ELPAC) 
Grades TK-12
Physical Fitness
Physical Fitness Test (PFT)
Grades 5, 7 and 9