Inclusive Schools Week Online Arts Showcase
SFUSD hosted a district wide online arts showcase as part of our celebration of Inclusive Schools Week. Students across the district submitted their original artworks - including paintings, sketches, photography, song, dance, music, creative writing and more. Their artworks speak to the importance of inclusion and acceptance of everyone in our communities and provides a glimpse of 2020 through the eyes of our youth.
 
Enjoy!
SFUSD 2020 Inclusion Resource Guide
Inclusive Schools Weeks provides an opportunity for SFUSD educators and community members to teach students not just about disabilities but also about the intersection of disabilities with other categories of identity, like race, gender, class, cultural heritage, language preference and other differences.  Education and awareness can be a powerful tool to bridge across various differences and enable all students to find their voice and be appreciated for their unique selves.   
Celebration Activities and Resources
SFUSD CREATES INSPIRING AND INFORMATIVE VIRTUAL ACTIVITIES
Despite not being in person this year, the SFUSD Inclusive Schools Week Task force members, schools and families created inspiring and informative virtual activities and resources in the midst of a global pandemic. Read the rest of the story on the Inclusive Schools Network website.
What is Inclusive Schools Week?
Inclusive Schools Week provides an important opportunity for educators, students, and parents to
discuss what else needs to be done in order to ensure our schools continue to improve their ability to successfully educate and include all children. 
The theme for this year is "The Time for Inclusion is Now". An opportunity to show appreciation for inclusion as a way of life in our schools and community. A time to celebrate progress that has been made and acknowledge the hurdles that remain. It is also an opportunity to address the isolation caused by the pandemic and the struggle for social justice. 
The Inclusive Schools Week Online Arts Showcase is now live! Thank you to all who submitted such incredible art work. If you have something to add to the showcase you can submit you art here.
Check out the SFUSD Inclusion Resource Guide and Special Education Community Events Calendar for more details about how you can join SFUSD Inclusive Schools Week events and celebrations happening across the district. 
Check out our Inclusion Bitmoji Classroom to learn more about Inclusion, Special Education and Disability Heroes!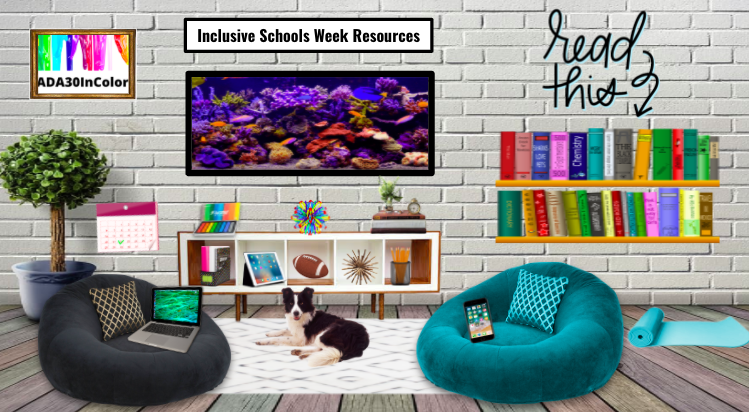 This special community event will feature a panel of young adults (including SFUSD alumni and current students) who will share their individual education journeys and the intersections of their identity and disability. Panelists will discuss the strengths they have discovered within themselves and obstacles they have overcome as well as barriers individuals who are differently abled continue to face. This event is hosted by SFUSD Special Education Services, the Community Advisory Committee for Special Education and Support for Families of Children with Disabilities. Register Today!
SFUSD will be hosting a district wide online arts showcase as part of our celebration of Inclusive Schools Week. We are accepting submissions of visual and performing arts - including paintings, sketches, photography, song, dance, music, spoken word, creative writing and more. Use the theme as your inspiration. In order to be included in the online digital showcase, submissions are due no later than Friday, December 4 2020.
As part of Inclusive Schools Week, SFUSD and Special Olympics have teamed up with Glen Park Elementary, James Lick Middle Schools, Galileo High Schools and the Thurgood Marshall Access program to host Special Olympics Athlete Speakers. These speakers will share their own personal journey and talk about the importance of inclusion and equity. 
New This Year: Classroom teachers, parents and students can sign up to attend a virtual assembly at any of the schools sites listed below. Each assembly will be targeted towards that specific grade level, but if your class has a conflict you are welcome to join a different time that works for your schedule.
Tuesday, Dec 8th at 2pm - Elementary School Virtual Assembly with Special Olympics Athlete Speaker - Hosted by Glen Park Elementary.
Wednesday, Dec 9th at 9am - SF 49ers & SourDough Sam Virtual PE Workout
Wednesday, Dec 9th at 2:30pm - High School Virtual Assembly with Special Olympics Athlete Speaker - Hosted by Galileo High School
Thursday, Dec 10th at 1pm - Middle School Virtual Assembly with Special Olympics Athlete Speaker Hosted by James Lick Middle School.
Friday, Dec 11th at 10:10am - 18-24yr old Transition Program Virtual Assembly with Special Olympics Athlete Speaker - Hosted by Thurgood Marshall ACCESS Program 
Register today!!!   Registration LINK
Please complete this form about your site's plans for Inclusive Schools Week. We will use the information gathered in this form to highlight what is happening at your school. You can also use this form to request support or resources from the SFUSD Inclusion Taskforce.
Here are highlights of activities being planned at school's across the district:
Elementary schools - several principals are kicking off the week by leading activities and discussions about Inclusion. Principals, teachers, librarians and parents are also doing read alouds, adding lessons to Seesaw and talking about being accepting and proud of differences. School sites are also sharing and posting videos about inclusion and doing writing activities in their classes. 
Middle schools - there is an Inclusive Schools Week Virtual Film Festival and learning experiences about difference and inclusion during Advisory. 
High schools - are addressing best practices for supporting students with IEPs and 504s, ableism issues and education on disability awareness. One of our "Best Buddies" Clubs is planning an "Instagram Takeover" to promote inclusion.
Is your school doing something special? Share it here!
Read below for activities and resources you can use at your school.
Check out the 2020 SFUSD Inclusion Resources, the Inclusive Schools Network or 30th Anniversary of the ADA celebration guides for resources and ideas for your school.

Contribute to SF Loves Learning. Read a book, sing a song and share your inclusion story! Families, staff and community members are all encouraged to participate.

Try these disability simulations from Misunderstood Minds or these video activities from AutismSpeaks.

Join the "Spread the Word to End the R-Word" Initiative

Read inclusive books that represent all students and families or start a book club using this Inclusive Book List from the Community Advisory Committee for Special Education. Check out this list of inclusive picture books and inclusive middle school books available on Hoopla from the SFUSD Librarians. 16 Fiction Books With Disability Representation, Children's Books Honored For Disability Narratives 

Visit ADA30 in Color or follow the Disability Visibility Project

Teachers - use these Special Olympics K-12 Lesson Plans or Teaching Tolerance classroom curriculum to build awareness and empathy in your classrooms.

Family Resources for Talking about Race & Social Justice in the U.S. - SFUSD staff have compiled a brief list of books, articles, videos, websites and other resources for families to explore race and social justice with children of different ages. 

Additional Resources from SFUSD - SFUSD 2020 Black History Resource Guide, SFUSD 2020 Latinx Heritage Resource Guide, SFUSD 2020 Filipinx History Resource Guide, Native American Heritage Month Resources, LGBTQ Family + Gender Diversity Elementary Teaching Guide, SFUSD Librarian's Hoopla Inclusive Book List and Diversity and Inclusion Books for all ages.

Classroom Activities: Ask students to think about how their disability gives them "superpowers". Then have them highlight their unique strengths with a ____ is my superpower writing activity. Or discuss characteristics of what makes a good friend then use the prompt: I can be a good friend by ___________.

Encourage inclusion during distance learning by inviting and encouraging general education students to virtually visit special education classes.

Read these Inclusion Stories from A Mighty Girl to inspire smart, courageous and confident girls.

Champions of Inclusion Activities from the Inclusive Schools Network

BLM@SCHOOL // DISABILITY JUSTICE RESOURCES SAMPLER! - Curriculum​ - Lesson plans, classroom resources for all ages. A team of people from around the country work collaboratively to curate a variety of classroom resources for every age group. These resources are all free of charge and meant to be shared and used. The goal of these lessons and activities is to challenge racism and oppression and providing students with the vocabulary and tools needed to take action. 

The Paul K. Longmore Institute on Disability at San Francisco State University studies and showcases disabled people's experiences to revolutionize social views. Through public education, scholarship and cultural events, the Longmore Institute shares disability history and theory, promotes critical thinking, and builds a broader community.
Log into our employee website for more Inclusion Resources for Staff