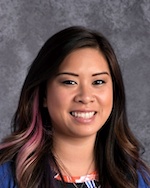 Hello! My name is Rachelle Hata and I teach 4th grade in Room 220. I am so excited to be back at Lafayette! I taught 2nd grade 2 years ago here at Lafayette and 5th grade last year at John Muir in San Bruno. This year I was so fortunate to come back to the Lafayette community and be with the awesome 4th grade team!
I was born in San Francisco and then moved to San Bruno when I was really young. I attended school in San Francisco up until about middle school and then transferred schools to be closer to home. I still grew up in the San Francisco community through playing basketball and being with family.
I attended San Francisco State and earned my BA in Liberal Studies with a minor in Criminal Justice and continued to get my teaching credential as well. I was able to gain my teaching experience within SFUSD and valued what SFUSD is about. It is about community, diversity, and achieving to its highest potential. I am so grateful to be back in SFUSD and especially back at Lafayette.
Outside of school, you may catch me at a Giants or Warriors game! You may even catch me coaching basketball throughout the city. I am currently coaching a 6th grade girls team as well as assisting the JV Boys Basketball team at George Washington High School.
I look forward to a wonderful and inspiring year with my class and all it has to offer in 4th grade!
 My name is Ra Price and I have been a part of the Lafayette community since 2010.  I currently teach 4th grade in room 225.  
I received my BA in Child and Adolescent Development from San Francisco State University, with a School Age concentration.  I also earned my Multiple Subjects Teaching Credential from SF State.  
I currently live in San Francisco with my husband, Geoff.   I grew up in the Central Valley and moved out to San Francisco in 2006.  
In my spare time, I love to read, try new cooking recipes, and travel.  I am also a HUGE Bay Area sports fan.  I love spending my time at the San Francisco Crossfit where I practice powerlifting.  
I look forward to having a highly productive, empowering, and successful school year.  I am also looking forward to working together with you as a team to assure your child's success in fourth grade. Fourth grade offers many fun challenges.  We will learn through art, music, and theater.  We will also explore new math concepts, continue to develop and practice our reading and writing through Reader's and Writer's Workshop, and enrich our curriculum through field trips.  We will also continue to develop our growth mindset and social responsibility through community building, conflict resolution, and cooperative learning.