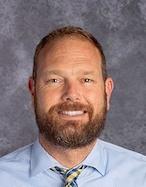 Welcome Lafayette Community!  My name is Jacob Hodgson and this is my fourth year at Lafayette, my 11th year as a principal and my 23rd year in education.  
I went to Washington State and Chico State Universities where I played football and earned my degree and teaching credential.  I received my Master's in Education Administration andAdministrative Credential from San Francisco State University.
I am so happy to be a part of the Lafayette Community and look forward to getting to know each of our students and their families better each day.  I am lucky to be surrounded by such an amazing staff that work hard each day to make connections and engage learners.
When I am not at Lafayette, I am enjoying the neighborhood, San Francisco and the surrounding area with my family and friends.  My wife and I have two children and we all like to travel, listen to music and cook.
If you live in the area around Lafayette, you'll undoubtedly see us in the neighborhood.
I am excited to have you here and welcome you all to Lafayette.  Go Dolphins!
Sarah Seaton
Assistant Principal

Greetings Lafayette community!

My name is Sarah Seaton and I am filled with excitement to be appointed as the Interim AP at Lafayette Elementary School. I come to you with 12 years of experience as a school educator - 6 years as a classroom teacher, teaching grades 3, 4, a 2/3 combo, and a self-contained 8th-grade class; and 6 years in administration, ranging from Curriculum Coach to Assistant Principal.

My core beliefs are grounded in my background, experiences, and identities - racial, socioeconomic, and gender - which have contributed to and enabled me to become a leader who will ensure that each and every student has what they need to be successful. I am an advocate for the needs of my students & families, and I see each and every student as deserving of a quality education, no matter their background, experiences, or identity markers. I believe that we as educators are responsible for providing all our students with the supports they need to thrive and grow in a loving and caring environment.
When not working, my husband, Jeff, and I enjoy going to San Francisco Giants games, playing tennis, hiking, mountain biking, going to the beach, board games, online gaming with friends, listening to music, and photography.

I greatly look forward to working alongside our students, staff, and school community.

In partnership,
Sarah Seaton
Rhodora Hicks
Student Advisor
This page was last updated on October 25, 2021