Briana Acevedo-Slaughter
Speech
Karl Digerness
Music Teacher
Shannon Gerrity
Visual Arts
Leslie Jer
Teacher Librarian
Denise Kung
Special Education
Carmen Leung
Special Education
Emily Newman
School Social Worker
Rob Tassano
Special Education
Vista V.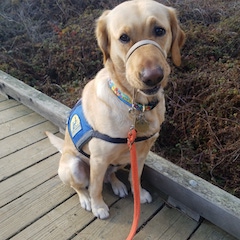 My name is Vista V. I am an assistance dog from Canine Companions for Independence. My job as a hearing dog is to alert my handler of certain sounds. Many sounds hearing dogs can be trained to recognize and respond to can be the sound of a doorbell, alarm clock, microwave going off, and phone ringing. My handler is Ms. Jer, the teacher librarian at our school. 
Some of the activities I love to do are going for long walks, cuddling, being read to, playing with my toys, and alerting Ms. Jer when certain sounds go off. I truly love my job! Other things I'm not too crazy about are taking baths, not getting fed on time, and other dogs pretending to be service dogs inside stores. This distracts me from doing my job.  
Just remember, if you see me around school, just a friendly wave or big smile are okay. Please refrain from petting or talking to me because it will distract me. 
This page was last updated on November 16, 2023