Veronica Gleason
Room 103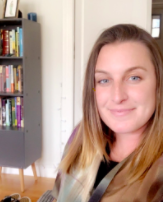 Hello! My name is Veronica Gleason. I have been teaching second grade at Lafayette Elementary School since spring 2018. I come from a family of educators and am a fifth generation San Franciscan. I attended SFUSD schools from Kindergarten to 12th grade. I attended San Francisco State University and have a Bachelor's Degree in History.  I have a Masters of Arts in Teaching from the University of San Francisco.
Second grade is a wonderful and important year where students grow both emotionally and academically. I believe in a student centered classroom where communication and a strong classroom community are at the core of our learning environment. I love making art with our students and encourage a strong creative atmosphere.  
Outside of the classroom I enjoy making art, cooking, hiking, dancing and playing the flute. I look forward to an exciting and wonderful school year!
Hello! My name is Sheryl (Sheri) Sitkoff and I teach 2nd grade in Room 101.  I've been teaching at Lafayette since 2017.  Before joining the Lafayette staff, I taught kindergarten -2nd grade in San Mateo County.  I've been an educator for over 25 years and have taught in both public and private schools.  I'm thrilled to be a part of the amazing Lafayette School community!  
I earned a Bachelor's Degree from San Francisco State University in Liberal Studies and my Multiple Subject Teaching Credential from the University of San Francisco. After living in The City for more than 30 years, I made a big life change and relocated to Marin County.  When I am not teaching, you will find me hiking, biking, doing yoga, reading, trying new recipes, and spending time with friends. 
My goal as a teacher is to cultivate a classroom community where students  feel valued, embrace creativity, take risks as well as practice empathy and inclusiveness. 
I am looking forward to creating a strong home-school connection in addition to having a great school year full of fun and learning!
This page was last updated on August 3, 2022