Veronica Venditti
Room 103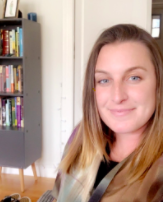 Hello! My name is Veronica Venditti. I have been teaching second grade at Lafayette Elementary School since spring 2018. I come from a family of educators and am a fifth generation San Franciscan. I attended SFUSD schools from Kindergarten to 12th grade. I attended San Francisco State University and have a Bachelor's Degree in History.  I have a Masters of Arts in Teaching from the University of San Francisco.
Second grade is a wonderful and important year where students grow both emotionally and academically. I believe in a student centered classroom where communication and a strong classroom community are at the core of our learning environment. I love making art with our students and encourage a strong creative atmosphere.  
Outside of the classroom I enjoy making art, cooking, hiking, dancing and playing the flute. I look forward to an exciting and wonderful school year!
Karen Rolph-Morales
Room 101
This page was last updated on August 17, 2023