Veronica Gleason
Room 104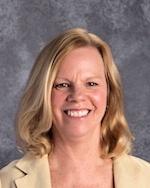 Hello, I am Jeanne Melander and I began my teaching career at Lafayette in 1998. I received my Bachelors of Arts degree in Child Psychology and English Literature. I continued my education with a survey of art & art history classes through the College of Marin and San Francisco State University, where I earned my multiple subjects teaching credential.
The children of Room 108 and I are working closely together to create a caring and safe environment where we help each other learn and develop academic and social skills. We began the school year by defining classroom goals, expectations & procedures and talking about ways to make our days full of learning and enjoyment. We have daily class meetings to continue this spirit of teamwork and community building.
Reading and writing will be a primary focus of our school day. We will continue to use literacy as we explore other areas of the curriculum; social studies, math, science, health, music and art. Activities in all these subject areas will build from what the children already know and will challenge them at their present ability levels.
I will guide the children in Room 108 towards building the skills and the confidence necessary to become life-long learners. We are looking forward to a successful school year together.