My name is Chloe Hoff and I teach 3rd grade in Room 222.  I received my Bachelor's of Arts Degree in Liberal Studies with an emphasis in Special Education and Elementary Teaching from San Francisco State University, and earned a Master's Degree in Education from the University of San Francisco.
My ultimate goal as a teacher is to promote tolerance, inclusion, and diversity both inside and outside of the classroom, and to encourage children to be the best students and people that they can possibly be.  Through individual work, small group work, and large group work, the students in Room 222 work together to explore both academic concepts as well as social emotional concepts.
Together, the students and I learn from one another to build our social skills, emotional skills, and academic skills.  I am so fortunate to be apart of the amazing Lafayette community, and look forward to watching the students continue to blossom throughout the school year!
Hi! My name is Candyce Hubbell, and I have been a part of the Lafayette community since 2012. Our school is made up of teachers and support staff, who work together to make sure that your child succeeds. I am proud to be a part of the Lafayette team! Prior to teaching third grade, I taught kindergarten. I absolutely love teaching third graders, watching them grow, thrive, and blossom into creative and critical thinkers throughout the school year. 
I live in the Richmond district with my husband, Kyle, our daughter, Sienna, our two cats, and our bunny. I am lucky to live AND teach in the same community as many of our students. I am often out-and-about with my family in Golden Gate Park and around the Richmond- be sure to say hello if you see me! Go Dolphins!
Stefanie Kohn-Leyba
Room 223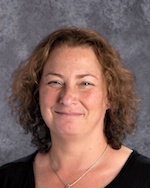 My name is Stefanie Kohn Leyba. I've been part of the Lafayette community since 2004. I taught 4th grade here for eleven years, and now teach 3rd grade in Room 223.
Originally from New Jersey, I moved to San Francisco in 1991.  I attended City College of San Francisco and San Francisco State University,while working as a clerk typist for the SFUSD. I earned a Bachelor of Arts in 1997, my teaching credential in 2000, and my Masters of Education in 2007.
I live in the Sunset with my husband, son, two cats and a dog.