I am very pleased to introduce myself as part of this wonderful Lafayette Community!  I have been at Lafayette since 2019.  I previously worked in both the Redwood City and Jefferson Elementary (Daly City) school districts.
I am a certified reading specialist and educator.  I received my Master of Arts in Elementary Education (with a concentration in language and literacy) as well as my teaching credential from San Francisco State University.  I received my Bachelors of Arts in sociology from the University of San Francisco.
I grew up in the upstate New York Finger Lakes Region and have also lived with family in El Salvador.  When at home in San Francisco, I enjoy the delight of living by the coast as well as traveling to the nearby Sierra Mountains.  I enjoy camping, hiking, cooking, live music out and exploring new places with family and friends.  
I aim to foster a classroom environment where young people grow emotionally and intellectually.  A place where they learn to think critically and continue to grow into insightful people that relate with each other, their communities and the world around them with compassion.
Hi! My name is Candyce Hubbell, and I have been a part of the Lafayette community since 2012. Our school is made up of teachers and support staff, who work together to make sure that your child succeeds. I am proud to be a part of the Lafayette team! Prior to teaching third grade, I taught kindergarten. I absolutely love teaching third graders, watching them grow, thrive, and blossom into creative and critical thinkers throughout the school year. 
I live in the Richmond district with my husband, Kyle, our daughter, Sienna, our two cats, and our bunny. I am lucky to live AND teach in the same community as many of our students. I am often out-and-about with my family in Golden Gate Park and around the Richmond- be sure to say hello if you see me! Go Dolphins!
Stefanie Kohn-Leyba
Room 223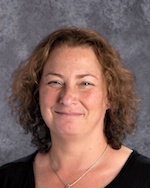 My name is Stefanie Kohn Leyba. I've been part of the Lafayette community since 2004. I taught 4th grade here for eleven years, and now teach 3rd grade in Room 223.
Originally from New Jersey, I moved to San Francisco in 1991.  I attended City College of San Francisco and San Francisco State University,while working as a clerk typist for the SFUSD. I earned a Bachelor of Arts in 1997, my teaching credential in 2000, and my Masters of Education in 2007.
I live in the Sunset with my husband, son, two cats and a dog.
This page was last updated on August 3, 2022