My name is Jennie Harding, and I have been teaching 3rd grade at Lafayette since 2018.  When I was younger, I loved school and dreamed of being an elementary school teacher.
I received a Master's of Education from Stanford University and a Bachelor's degree from Williams College in Massachusetts. At Williams, I majored in psychology, played on the women's basketball team, and volunteered in local elementary schools.
Prior to coming to Lafayette, I taught 2nd grade and 6th grade in San Francisco public schools and worked at an educational technology company where I helped integrate technology in the classroom. In my free time, I love hiking, traveling, and running all over the city.
My name is Chloe Hoff and I teach 3rd grade in Room 225.  I received my Bachelor's of Arts Degree in Liberal Studies with an emphasis in Special Education and Elementary Teaching from San Francisco State University, and earned a Master's Degree in Education from the University of San Francisco.
My ultimate goal as a teacher is to promote tolerance, inclusion, and diversity both inside and outside of the classroom, and to encourage children to be the best students and people that they can possibly be.  Through individual work, small group work, and large group work, the students in Room 225 work together to explore both academic concepts as well as social emotional concepts.
Together, the students and I learn from one another to build our social skills, emotional skills, and academic skills.  I am so fortunate to be apart of the amazing Lafayette community, and look forward to watching the students continue to blossom throughout the school year!
Stefanie Kohn-Leyba
Room 227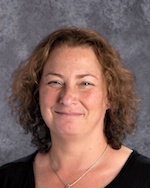 My name is Stefanie Kohn Leyba. I've been part of the Lafayette community since 2004. I taught 4th grade here for eleven years, and now teach 3rd grade in Room 227.
Originally from New Jersey, I moved to San Francisco in 1991.  I attended City College of San Francisco and San Francisco State University,while working as a clerk typist for the SFUSD. I earned a Bachelor of Arts in 1997, my teaching credential in 2000, and my Masters of Education in 2007.
I live in the Sunset with my husband, son, two cats and a dog.