Are you CREATIVE? Join the DMD Academy Today!
Digital Media Design (DMD) Academy Overview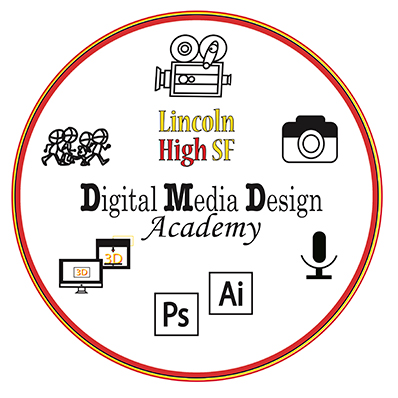 WANT TO JOIN DMD?
Do you love using computers?  Do you want to learn about using different software programs, making digital videos, making animations, and much more related to technology?  If so, then join DMD!  If you are going to be a sophomore or a junior next school year and want to join this academy, please speak to Mr. Goncalves in Room 239 or email him at goncalvesj@sfusd.edu  as soon as possible because spaces fill fast.
ABOUT THIS ACADEMY
The Digital Media Design (DMD) Academy at Lincoln High School is supported by SFUSD's Career Technical Education (CTE) Dept. and is a three year program designed to introduce high school students to the ever-expanding digital workplace and to the many and highly varied career opportunities in the visual arts & multi-media fields.
The Digital Media Design (DMD) Academy equips students with the personal, analytical, technical and communications skills they need to thrive in IT as well as the digital multi-media skills and experiences needed to function in today's world- whether in higher-education, professional careers or every-day life.
Students take Media Arts-Intro their sophomore year learning about Adobe Photoshop, as well as the principles of art. They spend their junior year in Media Arts-1 learning about quality graphic design principles and Adobe Illustrator in depth for print and multi-media creation. Between their Junior and Senior years, students work as interns at firms specializing in IT and Multi-Media/Advertising as well as at IT/Multi-Media departments in various corporations and industries.  Senior year students take Media Arts-2 learning digital video production and digital animation, as well as some basic web design. 
Please visit the individual course webpages linked (in BLUE) in the left column for more info about each course.
Please check out the separate DMD Academy website for sample projects from current & former DMD Academy students HERE.
Some Things We Have Done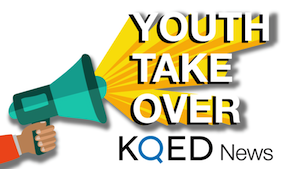 Listen to ALHS students' Podcasts created during the first-ever "KQED Radio Youth Take-Over" Project in May 2018. LISTEN to their stories HERE!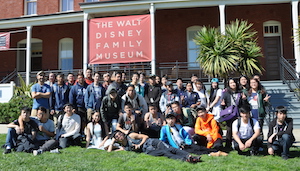 FIELD TRIP TO DISNEY FAMILY MUSEUM FOR TOUR & ANIMATION WORKSHOP
DMD GUEST SPEAKERS FROM WALMART.COM
Interview with Mr. Goncalves, DMD Lead Teacher
1. Do you enjoy teaching DMD? And explain why.
Yes I do! Students who elect to join the DMD Program are excited about using computers to create digital artwork and designs and are excited about learning more advanced techniques to create and manipulate images, videos, animations, and sound to convey their unique messages to the world, so they really want to be in DMD to learn and create original digital art.
2. What is DMD all about? And why is it important for students learn more about it.
DMD is about learning to use digital art software (the latest version of Adobe software, such as Photoshop, Illustrator, & Premiere Pro) to the intermediate professional level, in conjunction with knowledge of design principles and elements of art so students can understand what it would be like to work in the creative arts career fields. It's important because design and multi-media are all around us and it is important for students to know early on if it is for them or not as a possible career field. But its also for them to have the digital art skills and knowledge to create content for their own personal websites and social media accounts. There are millions of great jobs in the advertising, video production, and animation fields, and it is a benefit to students to see if they enjoy doing this type of work and therefore would enjoy doing it as a well-paid career in their future.
3. What is something you tell your students to do on a daily?
First off, at the end of each class period, I say to "Save your work!", so that they don't lose all that they've created all class period! I also tell them regularly that what the DMD Program is about is exploring whether the digital creative field is for them or not, and that they won't know that unless they try their best to learn the software and the design skills and to practice them effectively.
4. What are other interesting facts about your class would you like to tell the readers of the Yearbook?
Most people don't know that the DMD Program also helps students sign up for free CCSF classes with free textbooks and support, has presentations about applying for colleges and scholarships, helps students get paid internships for the summer and school year, and makes available other after school programs related to digital media, which makes DMD students stand out on their college applications and their job resumes, if they are looking for jobs in the world right after high school. So, the DMD Program is not just about taking a sequence of three engaging courses at ALHS, but it's also about going beyond the Lincoln campus to expand your learning, skill set, and knowledge base, and also to begin to build your professional network, which will aid you in getting a great creative job in the future.
This page was last updated on May 25, 2022