Our Goal: Support a Thriving Workforce
Our staff is an integral part of the school meal program, a warm smile or friendly hello can change a student's entire day. We invest in people, technology and processes to create a thriving workforce and environment that fosters a human-centered design approach to achieving our vision. 
How we get there 
Hands on culinary training
Professional development 
Modernized technology
Career pathways for SFUSD students and staff
Culinary Skills Training
Our work wouldn't be possible without the leadership, expertise, and historical knowledge of over 200 dining staff. This year we've added extended culinary professional development including knife skills and recipe creation and testing and program innovation, and are planning additional opportunities for the 2019-20 school year.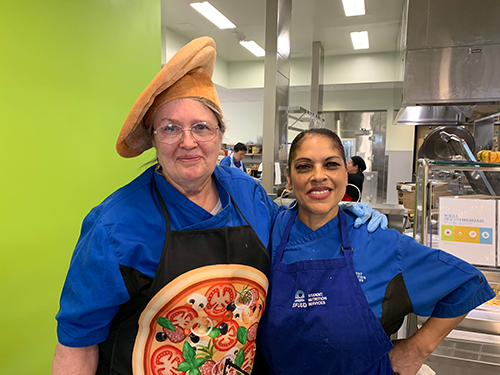 SNS staff Linda and Erminia after a successful lunch service at McAteer Culinary Center
Recognizing Our Dining Staff
We're grateful to our dedicated dining staff who serve our students every day! Congratulations to the following staff who were recognized in August 2019 for surpassing 20 years of service with Student Nutrition Services:
Ofelia Bobadilla, Celebrating 40 Years of Service
Evelyn Brandon, Joanne Jeffries and Josette Johansen: Celebrating 35 Years of Service
Dexter James, Gloria Law and Lydia Norman: Celebrating 30 Years of Service
Romeo De Lara and Tonya J Stokes: Celebrating 25 Years of Service
Julie Cheng and Janice Mennucci: Celebrating 20 Years of Service
Career Pathways
In partnership with SFUSD's CTE (Career and Technical Education) culinary programs, we provide hands-on culinary experience to create career pathways for SFUSD students to join Student Nutrition Services and local businesses.
This page was last updated on December 9, 2019