SFUSD Inclusive Arts Showcase
Inclusive Schools Week is December 5-9, 2022. The Inclusive Arts Showcase is open to all students to share what "Unity within our Community" looks and feels like for them. Student art can be related to their disability, gender, socio-economic status, cultural heritage, language preference or other unique trait that they would like to share. 
Check out the Inclusive Arts Showcase Website for inspiration!
Save the Date! Inclusive Schools Week Dec 5-9, 2022
This year's theme from Inclusive Schools Network: "Unity Within Our Community." Join us in celebrating Inclusive Schools Week December 5-9, 2022!
SFUSD Inclusion Resource Guide
Inclusive Schools Week provides an opportunity for SFUSD educators and community members to teach students not just about disabilities but also about the intersection of disabilities with other categories of identity, like race, gender, class, cultural heritage, language preference and other differences.  Education and awareness can be a powerful tool to bridge across various differences and enable all students to find their voice and be appreciated for their unique selves.   
Inclusive Schools Week in SFUSD
Community Inclusion Events
Keynote Event: "Inclusion in San Francisco - From the Birthplace of the Disability Rights Movement to Today"
Join us Thursday, December 8th from 6-8pm for a very special virtual presentation about inclusion and the fight for disability rights in our city. San Francisco has a rich history of disability advocacy that includes the 1977 Section 504 sit-in at the Federal Building and continues today. We are honored to have participants of the 504 sit in as well as members of the disability community joining us to share their stories and experiences. Many thanks to our community partners: Parents for Public Schools and Support for Families. 
Virtual School Assembly with Special Olympics Athlete Speaker hosted by Thurgood Marshall
Phillip Gonzales is a multi-sport Special Olympics athlete who competes in soccer, basketball and track & field. He is an Athlete Leader for Special Olympics Northern California, serving as an ambassador and speaking to businesses, schools, government leaders and more. Phillip has hosted radio shows, podcasts, been interviewed by the Oakland A's, and emceed the Special Olympics Northern California Summer Games Opening Ceremony.
Join us to hear about Phillip's  journey growing up with an intellectual disability, and the importance of having an inclusive and respectful attitude. The speech and presentation will be appropriate for all ages, but targeted more towards a secondary audience. There will be a speech followed by Q&A at the end.
School Site Inclusion Activities & Ideas
School Site Activity Highlights:
Fill out this form to share your site plans and we will add your school's information to our list. We can't wait to hear what you have planned!
Join our Inclusion Email List - add the name and contact information for the ISW coordinator at your school site to receive updates and resources. (ISW Coordinators can be administrators, teachers, staff or parents.)  
Invite a speaker from one of our wonderful community partners to speak about inclusion resources we have available in San Francisco!
Are you struggling to plan Inclusive Schools Week activities for your school site? Reach out to Charlotte Tresslar, Family and Community Coordinator for Special Education Services, at tresslarc@sfusd.edu for support!
 SFUSD Inclusion Bitmoji Classroom
Check out our Inclusion Bitmoji Classroom to learn more about Inclusive Schools Week, Special Education and Disability Heroes!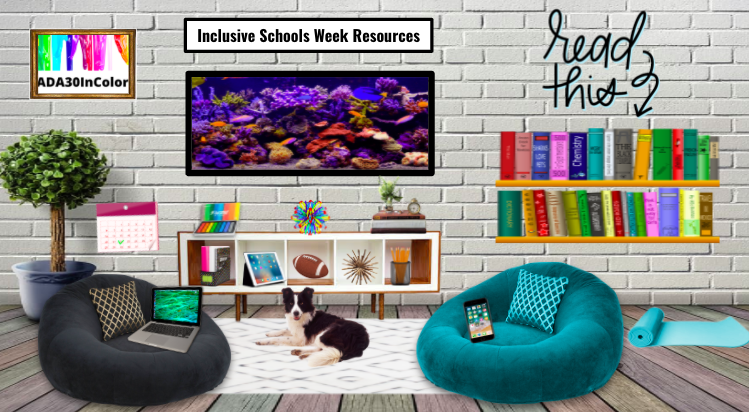 This page was last updated on November 22, 2022