SF Board of Education Discusses Budget Balancing Plan
San Francisco (November 3, 2021) - The San Francisco Board of Education is in the process of developing a budget balancing plan to address an ongoing structural deficit as expenses continue to grow faster than revenues to support all of the district's schools, services and programs.
The San Francisco Unified School District (SFUSD) projects an estimated $125 million operating budget deficit in Fiscal Year 2022-23, which continues to deepen in the District's multi-year projections. The California Department of Public Education (CDE) has directed SFUSD to submit a balancing plan by December 15, 2021. 
"The magnitude of this challenge warrants a strategic, priorities-based approach and we are working diligently with our community, fiscal experts and the SF Board of Education to plan,"  said Superintendent Dr. Vincent Matthews.
"Ensuring that the district can deliver on its mission while remaining fiscally stable is our top priority as a Board," SF Board of Education President Gabriela Lopez said. 
The District is preparing to meet this requirement by following a Zero-Based Budgeting process to prioritize expenditures. The Zero-Based Budget process categorizes District spending in three categories: Core Services, District Priorities, and Service Enhancements. Budget reductions will scale back Service Enhancements, identify ways to configure the delivery of Core and Priority services more efficiently, and preserve high leverage and high impact investments. 
The SF Board of Education will be discussing a budget balancing plan at several public meetings in November and early December that will inform the plan that gets submitted in December. This plan and any new information about projected revenues will guide the final 2022-2023 budget that must be submitted in June 2022.
The State Superintendent of Public Instruction (SSPI) has assigned a fiscal expert, Elliott Duchon, to assist the District in identifying budget reductions and advise the District on its financial issues. The District is working with the Fiscal Crisis and Management Assistance Team (FCMAT) to complete a Fiscal Health Risk Analysis (FHRA), with an estimated completion of mid-December. Before the Board takes action on a proposed collective bargaining agreement, the SSPI must be given 10 working days to review and comment on any proposed labor agreements and to render an opinion on whether the agreement would endanger the District's fiscal well-being. 
The November 2 SF Board of Education Committee of the Whole presentation regarding the budget balancing plan can be viewed online. 
Future meeting dates related to budget discussions with the SF Board of Education are below and members of the public can join by Zoom.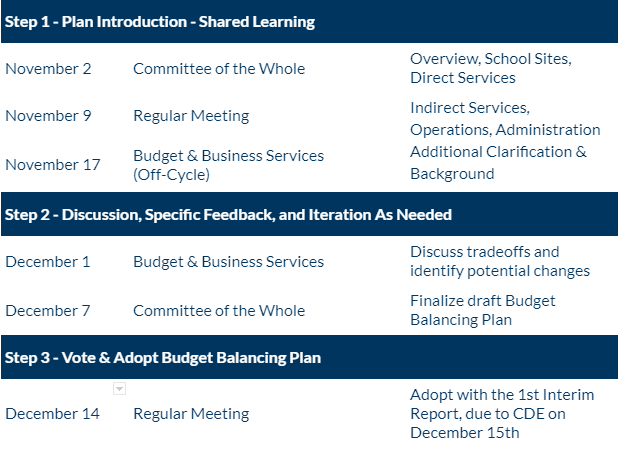 ###