Program Overview
In support of the Graduate Profile, Digital Learning Facilitators engage their sites to empower their school community in personalizing learning, as well as designing and managing digital opportunities so that each and every student can thrive in the 21st century.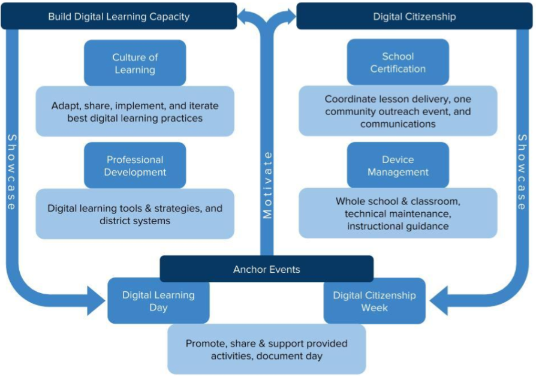 Digital Learning Facilitators help articulate and facilitate how digital learning and teaching look at their site. 

Facilitators will focus their efforts around building the digital learning capacities of themselves alongside their school communities and coordinating their school's digital citizenship certification. Two site anchor events will serve to showcase the work and progress of both teachers and students in order to transform mindsets and share best practices.

Read the Program Overview to learn more about the Digital Learning Facilitator role, including requirements responsibilities, benefits, and compensation. 
Principals can designate up to 3 Digital Learning Facilitators for their school using this form.
Essential Resources for DLeaFs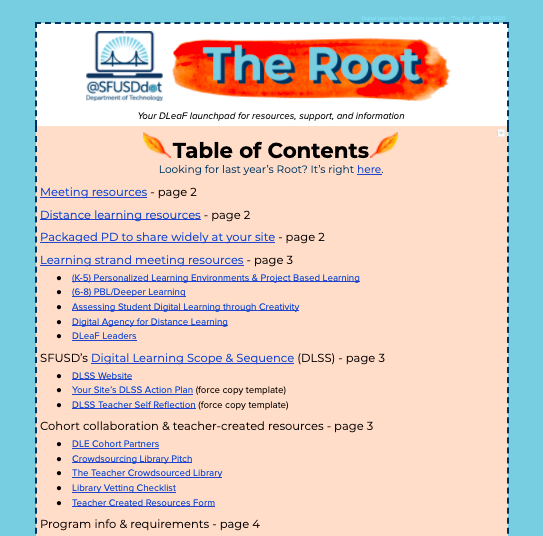 The Root offers a comprehensive collection of DLeaF program resources. Find everything you need in The Root. 

DLeaFs build capacity for digital learning at their site by providing professional learning and coaching grounded in SFUSD's Digital Learning Scope & Sequence and the school's DLSS Adoption Plan, which invites schools to focus on three digital learning competencies for growth during the 2020-21 school year. DLeaFs will collect artifacts from three projects that demonstrate this growth, and invite participating teachers to complete an end-of-year reflection on their growth with digital learning.

In order to empower SFUSD students to critically think about their online interactions, know how to handle potential issues on the internet, and for schools to create a safe online learning environment, teaching Digital Agency and incorporating it into students' daily lives and teachers' daily lessons is essential.

Throughout Digital Agency Week (October 19-23, 2020), students, staff, families, and community partners from schools across the district engaged in learning activities such as model lessons and collaborative games to proactively raise awareness of safe, responsible, and appropriate online behaviors. The Digital Agency Week Slide Deck showcases examples collected from that week. 

Digital Learning Week is our annual event celebrating the work accomplished this year with digital tools. This Digital Learning Week Slide Deck highlights some of what educators across SFUSD celebrated around digital tools for the 2020-21 school year. 

The DLeaF FAQ 2020-21 provides answers to the most common questions. 
DLeaFs are supported by a Digital Learning Partner assigned to their cohort. To see what member of the Digital Learning Team is assigned to your cohort, check the DLeaF Cohort Partner List below: