Program overview
DLeaFs build capacity for digital learning at their site by providing professional learning and coaching grounded in SFUSD's Digital Learning Scope & Sequence and the school's DLSS Action Plan, which invites schools to focus on three digital learning competencies for growth during the 2022-23 school year. DLeaFs will collect artifacts from three projects that demonstrate this growth, and invite participating teachers to complete an end-of-year reflection on their growth with digital learning.

In order to empower SFUSD students to critically think about their online interactions, know how to handle potential issues on the internet, and for schools to create a safe online learning environment, teaching Digital Agency and incorporating it into students' daily lives and teachers' daily lessons is essential.

Throughout Digital Agency Week, students, staff, families, and community partners from schools across the district engaged in learning activities such as model lessons and collaborative games to proactively raise awareness of safe, responsible, and appropriate online behaviors. This Digital Agency Week Slide Deck showcases examples collected from that week in 2020.

Digital Learning Week is our annual event celebrating the work accomplished this year with digital tools. This Digital Learning Week Slide Deck highlights some of what educators across SFUSD celebrated around digital tools for the 2020-21 school year.
DLeaFs are supported by a Digital Learning Partner assigned to their cohort. To see what member of the Digital Learning Team is assigned to your cohort, check the DLeaF Cohort Partner List below and check out our Digital Learning and Enablement webpage.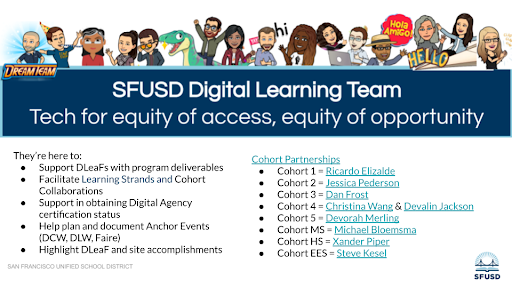 Frequently Asked Questions (FAQs)
If you have a question that you don't see listed here, please email Dan Frost (frostd@sfusd.edu)
Can multiple DLeaFs at the same site earn the stipend?

Yes! Each DLeaF at a site can be compensated for the following deliverables:

The Deeper Learning Portfolio
Learning Strand Work
Site/Family Support
The DLSS Action Plan

The deliverables that can only be claimed by 1 DLeaF at a site are:

Digital Agency Certification
Digital Agency Week
Digital Learning Week

However, any other DLeaFs who provide support around the above 3 deliverables can claim it for the Site/Family Support deliverable.

Additionally, the Device Management stipend can be shared between 2 DLeaFs, but it has to be a 50/50 split.

 
Are DLeaFs compensated for attending DLeaF meetings?

Yes, DLeaFs are compensated $60 for each DLeaF meeting they attend. If you are not able to attend a meeting, you can check in with your Cohort Partner to "make up" what you may have missed.
This page was last updated on September 20, 2022