Come Join the DLeaF Program!
Program Overview
In support of the Graduate Profile, Digital Learning Facilitators engage their sites to empower their school community in personalizing learning, as well as designing and managing digital opportunities so that each and every student can thrive in the 21st century.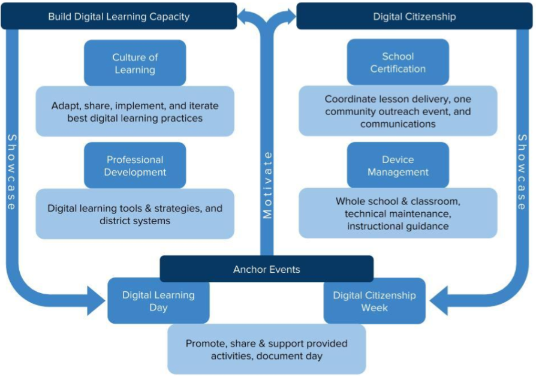 Digital Learning Facilitators help articulate and facilitate how digital learning and teaching look at their site. 

Facilitators will focus their efforts around building the digital learning capacities of themselves alongside their school communities and coordinating their school's digital citizenship certification. Two site anchor events will serve to showcase the work and progress of both teachers and students in order to transform mindsets and share best practices.

Read the Program Overview to learn more about the Digital Learning Facilitator role, including requirements responsibilities, benefits, and compensation. 
Principals can designate up to 3 Digital Learning Facilitators for their school by submitting the 2022-2023 designation form.
This page was last updated on August 16, 2023