Overview
The Environmental Science, Engineering, and Policy (ESEP) Pathway is a 2-year sequence of science courses at Wallenberg High School that is intended to familiarize students with a variety of careers in the energy, utilities, and environment sector. Students in the ESEP pathway will learn about transportation, electricity generation, telecommunications technology, water use and infrastructure, mining, industry, agriculture, and waste management, as well as the environmental impact of each of these topics. Students will also determine ways to minimize these impacts in the state of California.  
Some career profiles that students will learn about in the pathway include jobs at SF Municipal Transit Authority (in public transportation planning, engineering, operations, and maintenance), Cruise (autonomous vehicles), SF Public Utilities Commission (in electric power, water and wastewater treatment), and SF Recology (careers in solid waste management).  Students in the ESEP Pathway are encouraged to do an internship with an organization or company in the environmental or energy sector at some point before they graduate, ideally over the summer. 
Pathway Partners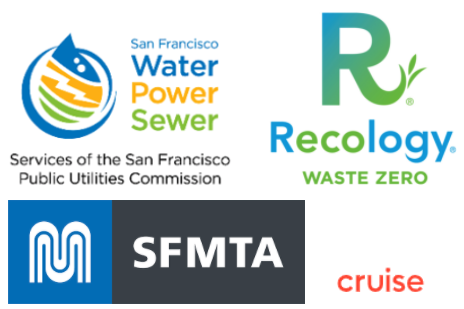 Pathway
Year 1: Environmental Physics and Engineering.

This course covers physics topics like energy, motion, forces, electricity and magnetism, and waves, and applies them to real-world environmental and engineering problems like climate change, transportation, electricity supply, and communications technology. Each unit will end with a project where you will apply your knowledge to describe or limit the environmental impact of a given phenomenon, technology or device.  You will learn about how a specific appliance in your home uses energy and how its efficiency can be improved.  You'll study whether the use of a resource like water, food, or electricity is sustainable in California.  You'll design a new Muni Route, calculate a schedule for the route and determine how much it will cost to run the route.  You'll compare public transportation, autonomous vehicles, personal cars, bikes, and walking to determine the most energy and cost efficient way for San Francisco residents to get around town.  You'll learn about how electricity is generated in a certain type of power plant and how it is consumed in a specific use. Finally, you'll learn about how cell phones, wifi, radio, and bluetooth work. Throughout the year, you will also learn about careers in public transportation, electricity, and telecommunications.   
Summer: Internship

in the energy, utilities and environment sector.
Year 2: AP Environmental Science.

​​​​​​​This course will study how to limit environmental impacts such as pollution and climate change through political and engineering decisions about regional transportation, water supply, wastewater treatment, energy and electricity supply, mining and industry, solid waste management, and agriculture. Throughout the course, you and your team will take the role of a California state senator and represent a county in California.  You will start the course by learning about the land, the natural resources, the wildlife, and the people of your county. Then, for each topic, you will be asked to make a decision that concerns your county, and when those decisions require coordination with other counties, you will negotiate with other county's senators to come to a mutually-beneficial solution.  Together, you will come up with solutions that minimize the environmental impact of human civilization in the state of California. Throughout the year, you will also learn about careers in water and sewer utilities and in solid waste management.
This page was last updated on July 13, 2021