Join us for a webinar!
Note as of 3/26: New content and grade-specific webinars have been added to the calendar. Please check regularly for updated offerings!
View Google Classroom resources here
Use the calendar below to see our upcoming webinars. You can scroll down to see even more upcoming webinars. 
*Note about Webinar session capacity:
Meet sessions have a maximum capacity of 250 participants
Zoom sessions have a maximum capacity of 100 participants
If your preferred session has reached capacity you may view recordings of past webinars.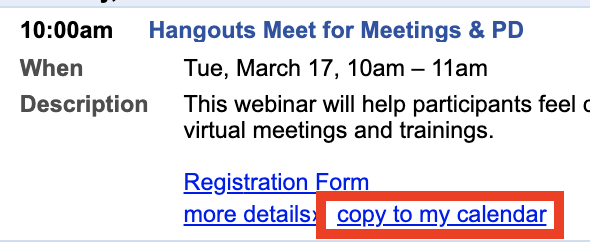 Copy the webinar to your calendar by clicking on the webinar title and then choosing "copy to my calendar". 
You can also:
Week of April 6 - 10
This week's offerings include webinars and office hours from Curriculum and Instruction alongside Department of Technology's offerings. Topics include preparing distance learning lessons for your specific grade level and content areas.
Week of April 13 - 24
Distance learning launches! Central Office divisions will continue to provide webinars and office hours.