Balboa Counseling Department Mission Statement
Stay F.R.E.S.H. - Fair, Respectful, Excellent, Safe, and Hopeful. The Counseling Program at Balboa High School provides a safe and compassionate environment for students to develop a sense of self, growth-mindset, and social justice identity. As school leaders, we advocate for our students' academic and socio-emotional well-being through a holistic and solution-oriented framework. As agents of change, our Counseling Program partners with families, community, faculty and staff to challenge systems of oppression in order to provide opportunities for our students to acquire the educational and social competencies necessary for their growth and lifelong success.
Counselors' Website
Follow this link below for more information about how the Counseling Department can help you with
Your class schedule
Developing your 4-year graduation plan
Dual Enrollment Courses - taking classes at City College to earn credits for high school and college
SAT/ACT testing information
Finding jobs and internship opportunities
Problem-solving around challenging classes
Social-emotional support
Connections to community-based organizations (i.e. YMCA, After-school program)
Credit recovery classes to make up D's or F's
The Counseling Team
Your counselors are assigned by your last name: 
A - F
Ms. Guan
guans1@sfusd.edu
ext. 3177
G - Liao
Ms. Valle
vallehernandezk@sfusd.edu
ext. 3115
Lib - R
Ms. Verdin
verdinm1@sfusd.edu
ext. 3122
S - Z
Mrs. Lee
leee@sfusd.edu
ext. 3113
Please come see us about anything during these times:
Homeroom (must have a pass from your homeroom teacher)
Lunch
To talk to a counselor during class time, please refer to the schedule below and choose a time when your counselor does not have their lunch or prep time.
You must have a pass from your teacher to speak to a counselor during class time.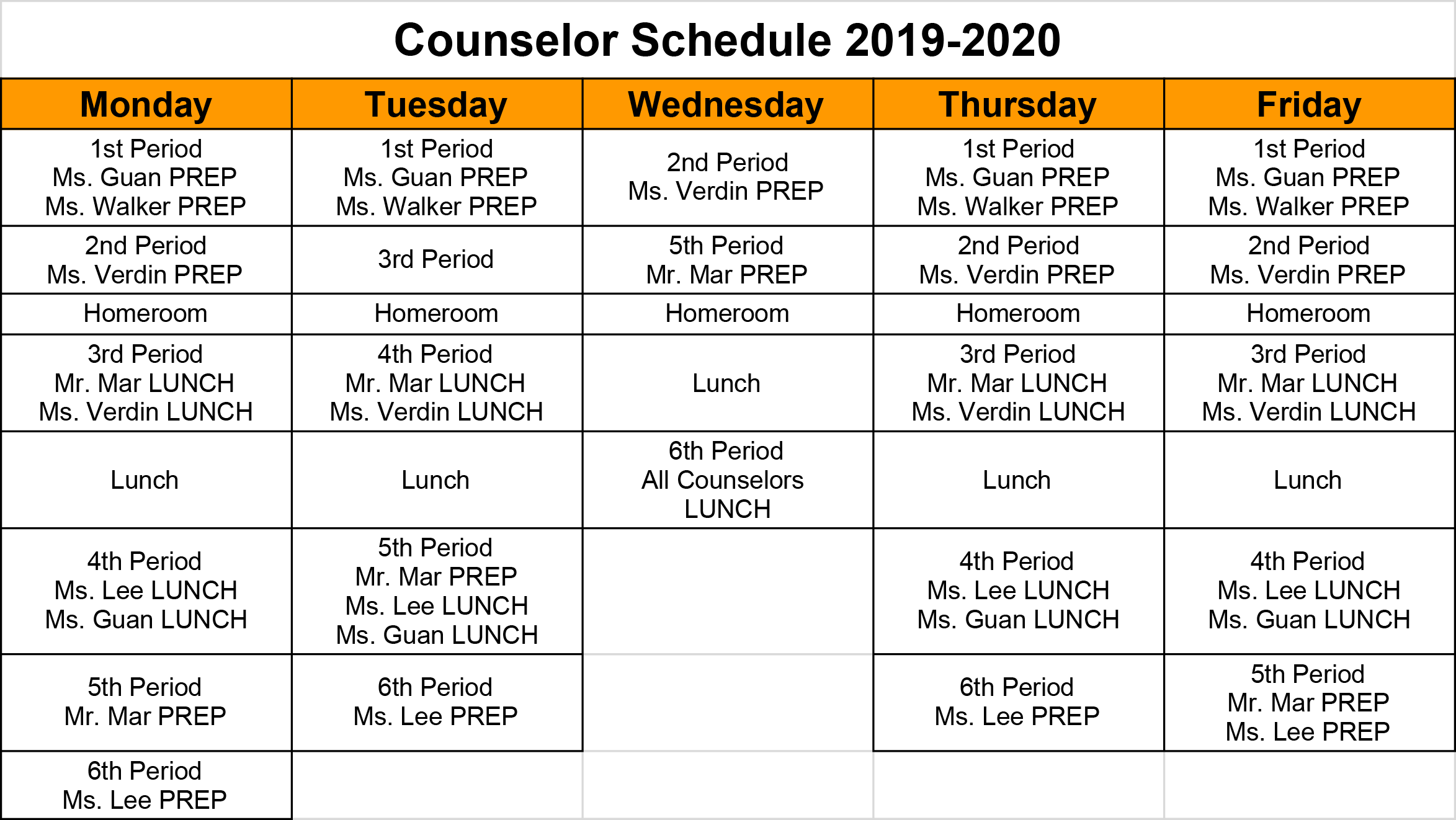 Feel free to connect with us in any means easiest for you!
We are most accessible via email! Email any questions or concerns. Please allow at least 2 business days for us to respond.