What is Early College?
Early College supports high school students to enroll in college classes at City College of San Francisco (CCSF).  Tuition is free and textbooks are loaned for recommended courses.
What are the benefits of Early College?
Gain college experience and earn credits with support from teachers and counselors.
Practice successful college behaviors and explore possible career areas.
Satisfy high school elective requirements.  1 college unit = 3.3 HS credits
Stand out on college applications!  Some courses may give you a bump in GPA.
Save money!  Some courses are UC/CSU transferable for general education credits.
Early College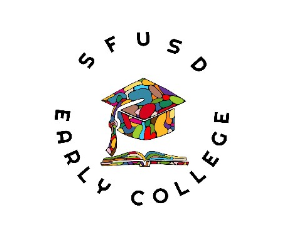 Our mission is to provide SFUSD students with a supported introduction to college, with an emphasis on subjects connected to high-demand career fields.  Known as "Dual Enrollment" throughout California and the nation, Early College is related to a range of college outcomes, including higher college enrollment, persistence, and better college GPA.
Read more about our programs in our Early College Overview.
The Early College team supports students at all high schools with dual enrollment steps, orientation to college, registration help, textbook loans, and ongoing check ins throughout the semester.  View our Early College contact list to connect with the staff member assigned to your high school.  Email us at earlycollege@sfusd.edu
Students can enroll in CCSF classes year-round.  Scroll down to view the Early College calendar, with important dates and deadlines.
Spring semester: January 13-May 20, 2020
Summer semester: June 8-July 17, 2020
Fall semester: August 15-December 18, 2020
What do students say about Early College?
Students share their thoughts about how Early College helped them to be ready for career, ready for life.
"[Early College was] an exciting new experience from regular high school life [and it] enables students to get a feel for college life and work."
~11th grader
"Early College helped me to see what college is like.  So I wasn't surprised when I got there.  I learned how to manage my time properly.  Now I have more freedom, and in college it's your responsibility to do your own things."
-SFUSD Graduate
"[Early College] helped me a lot.  I got to know teachers that helped me when I got to CCSF.  The topics are still useful for some of the classes I'm taking now."
-SFUSD Graduate
"I like the college experience and felt good pushing myself to complete the work."
~SFUSD student
"I major in design studies [at college now].  I took Visual Media Design classes in Early College.  Early College gave me an idea of what my major is going to look like, which gave me courage to choose this major."
-SFUSD Graduate