Introduction
About Balboa High School
Balboa is a college preparatory high school with a rich history and tradition. All instruction is organized through small learning communities, so each student is able to build powerful relationships with teachers while engaging in rigorous academic, artistic, and athletic pursuits. The ninth and tenth grades have a strong academic focus combined with an emphasis on career, health, and college exploration. At the end of tenth grade, the students select a field of interest that they will pursue as juniors and seniors in one of our School-to-Career pathways. We envision that all of our students will obtain the skills and knowledge that allow them to be lifelong learners in a rapidly changing world.
Balboa has set "Sustaining a culture of continuous improvement" as its mission. As a school community, we work to incorporate the cultural and experiential contributions with which our students enter the school building; these provide foundational building blocks for learning. We must teach our students how to access opportunity—not just what we have, internally, but how they can recognize and access opportunities outside of the school environment.
We at Balboa encourage students to believe in themselves, to feel appreciated, and to discover their own value. Students who identify Balboa as being their place demonstrate engagement and joy and find their niche in academic, extracurricular, and athletic participation. They want to be at Bal. Balboa faculty and staff are committed to setting clear expectations for students and for the wider school community. We believe in the process of educational partnership to demonstrate to our students the promise of positive engagement.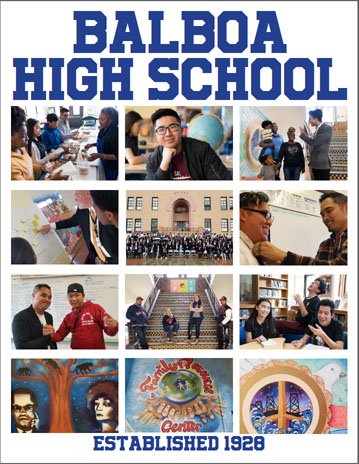 Please feel free to utilize the various resources on this website.
You can also access our school's digital brochure here!
This page was last updated on August 14, 2023