Description of Program
This program is offered at Alice Fong Yu Alternative School (Grades K-8).  Detailed information can be found at: http://www.afypa.org/ and https://www.sfusd.edu/school/alice-fong-yu-alternative-school-k-8
Students Served
English Learners

English proficient students
Language Instruction
The students at Alice Fong Yu have the unique opportunity to acquire Cantonese (K-8) and Mandarin (6-8).

Students in the middle grades will take one Cantonese language arts and one Accelerated Mandarin course each year.

Curriculum integrates Chinese World Language Proficiency Targets.
K-5 Pathway Eligibility
The district will assign an appropriate balance of students who are proficient in Cantonese and students who have not demonstrated proficiency in Cantonese. To demonstrate proficiency, students who indicate a language other than English on the home language survey are assessed in Cantonese.
Students who wish to enroll in the 6-8 Secondary Dual Language Pathway (SDLP) must meet one of the following requirements:
K-5 students already enrolled at Alice Fong Yu Alternative

General Ed students who passed 6th grade placement test at the Educational Placement Center

K-5 Mandarin Dual Language Immersion students who passed 6th grade placement test at the Educational Placement Center

K-5 Cantonese Dual Language Immersion pathway students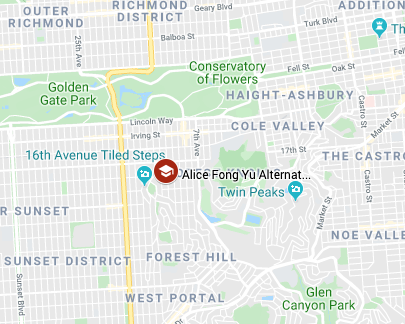 This page was last updated on June 30, 2022