Get email summaries of your student's progress in Classroom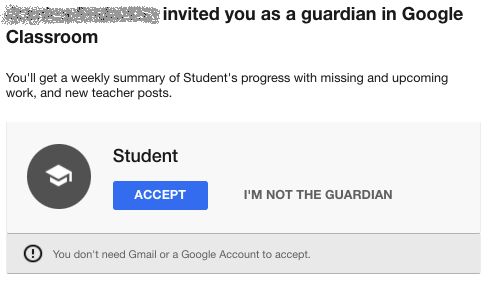 Google Classroom is part of SFUSD's Google Suite for Education and an optional tool teachers might use to collect and return students' digital work. Some teachers may also choose to turn on guardian email summaries, which allow a teacher to enter a parent or guardian's email address so that they can receive weekly or daily summaries of missing work, upcoming work, and other Google Classroom activity. Please be aware that Google Classroom's email summaries provides limited access to students' digital work and is based on the level of use by the classroom teacher. For more comprehensive access to your student's academic progress, including grades and attendance, please use SFUSD's Family Portal (ParentVue) or the ParentVue mobile app (iPhone/iPad or Android/Samsung). 
Learn more about supporting your student with Google Classroom.
How do I accept the email invitation?
If your student's teacher opts to use guardian email summaries, you will receive an email notification inviting you. You must open that email and accept the invitation before you can receive email summaries. Only teachers and administrators from your student's school can send these invitations, and you have 120 days, which is about 4 months, to accept an invitation before it expires.
The teacher or administrator can email you an invitation for your student to your email address.

In your email program, open your email invitation, and click "Accept". You may need to check the Spam folder for the invitation.
You can unsubscribe or remove yourself from Classroom email summaries at any time.

You only have to accept once; you are now linked with your student's account. In the future, if any other teachers turn on guardian email summaries for their Classroom course, you will automatically be added as a guardian for your student.
What do Guardian email summaries include?
Guardian email summaries include:
Missing work

—Work that's late at the time the email was sent

Upcoming work

—Work that's due today and tomorrow (for daily emails) or work that's due in the upcoming week (for weekly emails)

Class activity

—Announcements, assignments, and questions recently posted by teachers
Curious what guardian email summaries look like? See a sample guardian email summary (in English).
Guardian email summaries are automatically built through Google Classroom and are only available in English at this time. To read the information in your home language, you can copy the information in the guardian summary email and paste it into Google Translate or you can change your Chrome browser settings to automatically translate web pages for you. If you have questions about Guardian Email Summaries, you can ask your student's teacher or take a look at Google Classroom's frequently asked questions about Guardian Email Summaries.
This page was last updated on August 11, 2021