What is reclassification of English Learners and how does it happen?
Reclassification is the process whereby a student is reclassified from English learner status to fluent English proficient (RFEP) status after meeting various linguistic and academic criteria set by the state and district. The San Francisco Unified School District has developed student reclassification policy and procedures based on criteria set forth by California Department of Education (CDE) guidelines. In general, students initially identified as English Learners (ELs) are reclassified to fluent English proficient when they meet the following criteria:
ELPAC Overall Performance Level (PL) 4;

Demonstration of "basic skills" in English from an objective assessment that is also given to English proficient students of the same age;

Teacher Evaluation;

Parent Opinion and Consultation
Please refer to the linked "SFUSD Reclassification Criteria by Grade Level" in multiple languages. 
How are English learners reclassified in our school district? 
Twice a year, happening in the Fall and in the Spring semester, eligible English learners are identified to be reviewed for reclassification based on meeting the score criterion on the ELPAC and one other ELA assessment (Fountas & Pinnell, Reading Inventory, or Smarter Balanced ELA). 
After becoming eligible, students are evaluated by their current English teacher on their performance in English Language Arts (ELA) or English Language Development (ELD). 
Then, the parent/guardian(s) of the eligible student is consulted for their input and opinion about their child's pending reclassification.
At the end of the Fall and Spring semesters, the Multilingual Pathways Department reviews whether English learner students have met all four criteria of reclassification. After meeting the score criterion on the ELPAC and demonstrating basic skills on an objective ELA assessment, the student must also receive teacher recommendation and parent agreement to reclassify as fluent English proficient (RFEP). 
Once students reach RFEP status, they no longer need to participate in designated ELD, annual ELPAC testing, or other English learner services.  The school and Multilingual Pathways Department will closely monitor RFEP students' academic progress for four years. Interventions and support will be recommended and implemented for students failing to meet academic achievement goals.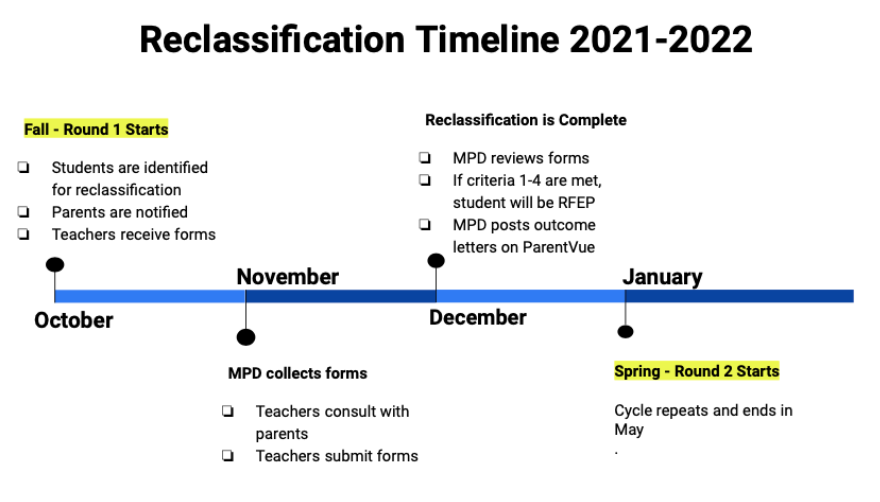 Who should I contact if I have additional questions about reclassification of English learners (standard process)?
If you have any questions, we welcome you to reach out to our team at reclassification@sfusd.edu. 
Reclassification of English Learners with IEPs (Individual Education Plans)
If a student with an IEP does not meet one or more criteria, can the student be reclassified? 
The Individualized Reclassification Process provides opportunities for ELs with IEPs to be considered for reclassification. The Individualized Reclassification (IR) is a process by which an English Learner student with an IEP may be reclassified by the Multilingual Pathways Department as a fluent English proficient student. Students with disabilities, including severe cognitive disabilities, should be provided the same opportunities to be reclassified as students without disabilities. The Individualized Reclassification process may be appropriate when the IEP team determines that an English Learner student with an IEP would benefit from reclassification, but the student's disability prevents the student from meeting the standard reclassification criteria.
When does Individualized Reclassification happen?
Individualized Reclassification happens throughout the academic school year.  As IEP teams hold meetings at various times during the fall and spring semesters students may be recommended upon completion of required documentation (IEP and Individualized Reclassification form).
How does an IEP team determine whether Individualized Reclassification is appropriate for an English Learner with an IEP?
During an IEP meeting (initial, annual, triennial or amendment) the IEP team discusses English language proficiency and progress towards reclassification. ​The IEP team considers recent measures of English language proficiency (ELPAC or alternate assessment if appropriate) and recent performance data for English basic skills. The IEP team can make a recommendation for individualized reclassification if the student does not meet standard criteria due to disability rather than limited English proficiency, and the student's English language proficiency is commensurate with similarly disabled English proficient peers. The Multilingual Pathways Department will review each case and issue a determination of approved or not approved for EL reclassification.
How is a student reviewed for Individualized Reclassification?
After the IEP team makes the recommendation the Special Education case manager submits a request to initiate a review to the Multilingual Pathways Department. The four reclassification criteria are reviewed with consideration for the impact of the disability/disabilities on the four reclassification criteria.
Who should I contact if I have additional questions about Individualized Reclassification?
If you have additional questions or need more information about the Individualized Reclassification process, contact: reclassificationIEP@sfusd.edu.
Where can families and caregivers of English learners find information about how they can be supported during the IEP process?
Family Guide for English Learners with IEPs
SFUSD Special Education Services
This page was last updated on December 17, 2021