Essential Information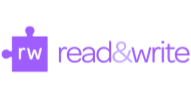 Used as a Google Chrome extension, read&write provides text to speech, proofreading, predictive text, along with picture and talking dictionary.


Read&write is available as a Google Chrome extension. 
Curricular Uses, Resources, & Tutorials
Read&Write is a software toolbar that helps students create and access content with the literacy support features needed to engage with a personalized learning experience - helping every member of the class meet their full potential.
Great for all subjects across the curriculum, Read&Write offers support with everyday tasks like reading text out loud, understanding unfamiliar words, researching assignments and proofing written work.
read&write tutorial
Watch the video for an overview of read&write and visit the webpage to learn more! 
This page was last updated on November 22, 2021